How To Style A Wedding With Balloons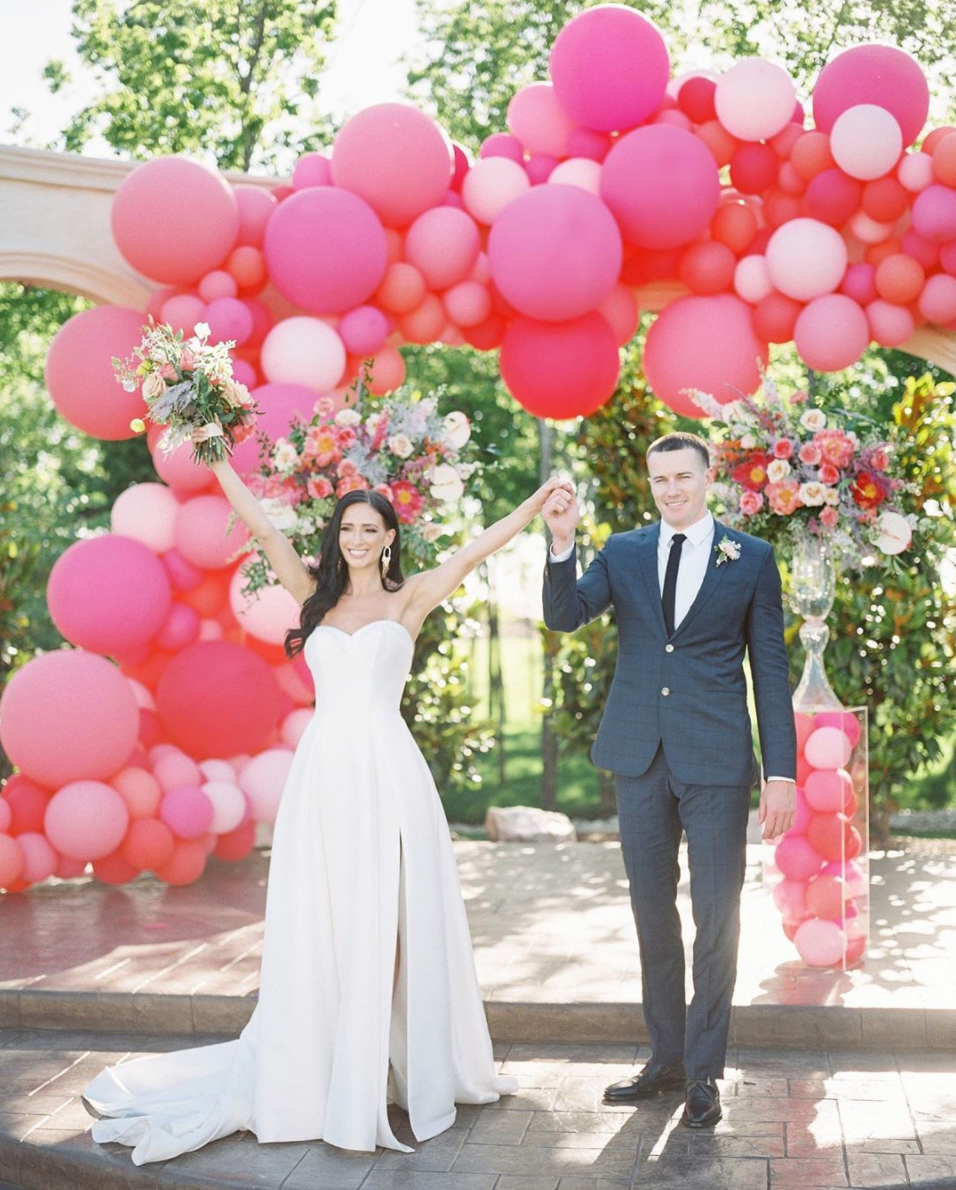 Balloons + weddings. . . it's like jewelry for your wedding venue! Balloon decor is the easiest way to add dimension, color and that extra POP to a wedding in an affordable and creative way. In the past year, we have loved working with different brides and planners on how to uniquely incorporate balloons into their special day. The Lushra Party Squad has rounded up some of our favorite projects to date on how to style a wedding with balloons!  
Welcome Entrance Balloon Garland 
It's about setting the tone and mood when guests arrive. We're all about creating that WOW factor and making guests stop and stare. Venue: The Emerson | Planner: Bash Co. Events | Photography: Chelsea Reece | Signage: LaneLove Paper Co
Whether it's installing a balloon garland at the venue's entrance or around a welcome sign, it's gotta be POPPIN' right at the beginning!
Venue: Knotting Hill Place | Photography: Celina Gomez Photography
Say "Yes!" to Altar Balloons 
Meet your other half at the altar with Lushra balloons! This is what wedding dreams are made of. We loved helping create this modern twist on this classic wedding. Can we talk atlar GOALS?! Venue: The Knotting Place | Floral: Katie Bug Floral | Photography: Jennifer Yarbro Photography 
 Find Your Seat with Balloons 
What a creative and unique way to let your guests know where they will be seating. It's all in the details and we're still swooning over this custom balloon wall we installed behind a clear, acrylic seating chart designed by Bash Co. Events. One of our favorite things to do when sprucing up a balloon installation is adding in floral. Floral elevates the balloons making it all things classy + chic. Venue: Hickory Street Annex
Flower Wall Dreams
We love pairing our flower wall rental with an organic balloon garland. It's all things dreamy! This installation could be used for a photo booth or backdrop for the cake table. We're all about #DOINGITFORTHEGRAM!
Head In The Balloon Clouds
We're big fans of ceiling installations because it can look so EPIC. Whether it's over the dance floor or dining area, it'll sure set the mood for your wedding. One of our favorite balloon trends right now is combining disco balloons into the balloon ceiling clouds! Venue: Whiskey Ranch | Planner: Southern Housewives Planning
Disco Balls + Balloon Clouds. YES PLEASE!
Do It For The 'Gram With A Balloon Wall 
It wouldn't be a party without an #INSTAWORTHY photo moment! A balloon wall is such an easy way to create a backdrop for your guests to take photos in front of during the reception. Venue: Knotting Hill Place | Planner + Florist: Wedfully Yours
PRO TIP: Get creative when designing a balloon wall! You can create chunky color blocking, stripes, add floral or anything your party heart desires!
Florist: R Love Floral | Photography: The Teagues
Dance Floor, but make it POPPIN'
*Cue Whitney Houston "Ooooh, I wanna dance with somebody!" Spice up your dance floor with a balloon installation. How dreamy is this monochromatic look?! We promise your dance floor will be POPPIN' with Lushra balloons, of course! Venue: The Emerson | Photography: Chelsea Reece | Planner: BashCo Events
 A Bubble Balloon Strand Dream 
A balloon-filled world! There is nothing more dreamy than 500 floating floating balloons. We loved making each guest stop and stare when arriving to The Adolphus Hotel for the most magical day. 
A Gold Hexagon Dream
Our gold hexagon frame pairs perfectly with balloons. Place it at the altar or as backdrop for the photobooth during the reception. It's all things classy + chic to tie everything together. Venue: The Joule
 Not to mention, our gold hexagon frame is beautiful when paired with floral! 
Venue: Dallas Arboretum | Photography: Kyrsten Ashley Photography | Floral: Haute Floral
Stop & Pose With Balloons
It's all about that perfect photo moment! We loved creating this unique and interactive photo area. Talk about Insta-moment GOALS! Venue: Knotting Hill Place | Planner: The IV Co. Events 
Needless to say, weddings are the most magical day. Give us all the brides who want balloons on their special day! The Lushra Party Squad loves helping celebrate life's special moments one balloon at a time. We want to know. . . what's your favorite way balloons can be incorporated into a wedding?! Comment below!
XO, 
Jill 
---