Makin' your Storefront POP!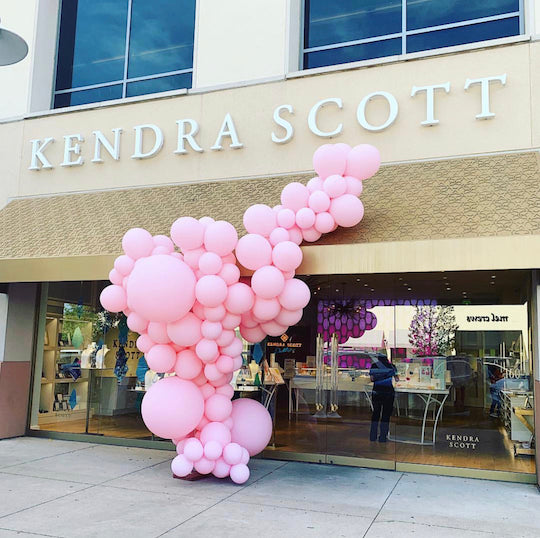 Grand Opening events are our absolute favorite; we love everything about them! From our favorite local Dallas storefronts like Dear Hannah, Sip Stir Coffee House, All Good Things Paper, Jade & Clover, OVME Dallas to bigger brands like Kendra Scott & Drybar.. we have loved working with companies both big and small & getting to celebrate in each of their successes.
This past week, we did our second grand opening event with Pressed Juicery who just opened it's second location in Texas! What can we say.. we GO BIG in Texas, and this grand opening installation was no exception.
Outdoor installs make each grand opening event next level. Attention-grabber is an understatement for sure!
Forever 21 was Lushra's first corporate account to call us for a grand opening event. At that time, Lushra was just a one-person shop & I remember blowing up balloons until 4AM at Lushra's studio and thinking I could do the install on my own.
I started freaking out once I realized how many balloons this was going to take and that I didn't want my first big corporate account be a disaster. I called up my friend Kristen Miller, boss babe owner of All Good Things Paper & she graciously was able to lend a helping hand. All I can say is THANK GOD for good friends!
Looking back, I can't imagine being able to produce these events without my team and I am so thankful that they make this process so seamless from start to finish! From Forever 21, we have come a long way. I am so humbled by the people we have worked with who trusted Lushra to provide them with their grand opening "wow-factor." And guess what? The party is just getting started!
Monochrome installations might be one of our favorite things - they are so classy and elegant!
A year later, Lushra has a team that can pump out 8-10 events a week, & I am so proud of my party squad that MAKES IT HAPPEN! This is the CORE FOUR and we are ready to make your party POP! 
Thanks for reading & watching us grow! I want to hear from you party peeps.. Leave a comment below!
XO,
Jill 
---